Free Agent Marketing
Proven Freelance Marketing Techniques
Go Ahead
Make the Jump to Success

Freelance Marketing Techniques. After all is said and done, don't you just want plain, sound how-to-do-it information?

Here's the scoop.

As an entrepreneur, I think the hardest thing I ever do is to determine the right marketing approaches. There are just so many options.

I'm out there all by myself, all alone needing to figure out how to get myself known to the proper decision makers so that I can get work.

Or, more accurately, to get profitable work "on my terms."

The first thing I learned a long time ago in the business world is if I don't market myself then I don't make any money!
Pure and simple, this is the nut.

So, I learned this indispensable truth: "Everything I do is Marketing!"

Your road to success is perseverance in the application of market-focused freelance marketing techniques.

I hardily recommend this be your guideline as well. This focus will lead to prosperity...and that's the truth!
By relaying my experiences outlined below, my hope is that you can capture the central theme of each experience and incorporate that effort into your marketing effort.

If you have a question or two concerning your marketing efforts and want my two cents worth, and the opinions from others across the world, please just contact me by clicking on my picture above. This is NOT a trick to get you to spend money. NO. I just want to help you for free. I want you to be successful. Period.
Freelance Marketing Techniques
Here are real life experiences.
Experience ONE
I set my sights on starting a leisure travel agency in a Kroger Store (supermarket). Kroger had never done this before.
 I found out through research that one independent supermarket in California had leased space to a travel agency about the same time I had this initial idea. I contacted them and learned all I could. Afterward, I called Kroger to find out who was in charge of their non-foods products. 
Having his name (but never meeting him), I started sending him clippings every 3-4 weeks from newspapers, travel agency trade magazines, yellow page directory ads from major city phone books, etc.

Anything having to do with "non-traditional" travel agency locations I sent him, along with a brief marketing notes to explaining why I knew a travel agency would work in a Kroger store.

After 17 months, out of the blue, I received a telephone call from him asking to meet. I did. I soon opened the first travel agency in all of Kroger-land.

The moral of the story is prospect for business all-the-time.

I tried something different from the norm and the chance paid off.

In your business marketing effort, you may wish to identify 10, 15, 20 or more freelance decision-makers in a variety of companies and send each of them "brief" info about yourself, highlights of positive client comments about your services, notes of info you find from your anticipated clients industry, etc. every 3 or 4 weeks.

Persistence will pay off for you.

Experience TWO



Developing a meet and greet speech is another freelance marketing technique I used.

I wrote down, revised and then revised again and again, a 10 to 12 second (yep, that's all) introduction of myself and my services. This forced me to focus on delivering a tight message and, hopefully, making an excellent impression.
I practiced, practiced and practiced it until I got it right and could deliver it flawlessly.

The punch line is always what you can do to make the proposed client "more" money.

Deliver it as often as you can to everyone you meet. You just never know where this can lead.

At the same time hand out your "quality" designed business card. Your card should be as high class as you can afford. That is excellent card stock, raised printing, a meaningful logo and, most importantly, your fantastic website address (please see below).

When I was comfortable with this freelance marketing technique, I was giving my spiel and handing out nearly 200 business cards a month. I felt that I needed to be "all in" and make the leap to continuous marketing.
Experience THREE
Allocate time each day…even when you are "up to your alligators" in busy. You need to be trying to get the next deal to avoid down time. Even if this is only 15 minutes a day, you must do it.

Never stop marketing!

This could be making phone calls to past clients, your social and business contacts and prospective clients. A mentor of mine once told me that I will only be successful when I'm comfortable asking friends and contacts for money/business. She was so right!!

When you get wind of a lead…act fast. "The early bird get the worm." Build your business reputation for doing great work, on time and at the agreed-to price.   

Always, always follow up! Do so prior to getting the job and after the job is completed. A written note, not an e-mail, is always appreciated.

Send a note to your previous clients every 3-4 months, telling them what you're now doing and that you want more of their business.

Experience FOUR
When you go to Burger King don't you get asked to "super size" your order? Think of an extra value you could bring to the client and ask her for the business…for an additional fee, of course.

Experience FIVE
Work to get listed as an approved supplier. Many large firms require this. Different department/divisions within the company then know that a listed supplier will do quality work at a fair price.

Keep trying to get work from a "Named Client." Not only does this get you in the door but what a winner this is to be seen on your list of clients.
The Bottom Line
After all is said and done, the best freelance marketing techniques I can give you based on successful personal experiences are:

Everything You Do Is Marketing…never stop…get focused to do it daily (if not twice a day)…get creative…exceed client expectations…finish that client job early…and do Quality Work!!

Keep On Keeping On...Personal motivation and staying positive keep you focused toward the goal…Make $$$.

If you want help with pricing your expertise correctly, please go to How Much Should I Charge.

Free Counseling

My retirement mission to use my experiences and the experiences of others to Pay It Forward, as a part of thanking all those who have helped me, I offer Free Counseling using my more than 35-years of small business building experiences.

This is not some sort of trick or come on to get you to buy something.
Nope, this is a serious offer to assist you in selecting and growing your small business.
Just click on my photo above.

THE #1 Freelance Marketing Technique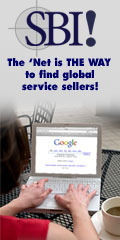 Your freelance marketing reach is global. The more opportunities you have the more money you'll make.
Therefore, it is imperative that you develop a great "business" Internet site and not just a regular site that looks great to you.This freelance marketing technique works!

A "business" website is so designed to get found. You do not want to spend dollars and time developing a site that can not be found by Web searchers.
And yes, 99% of all websites are just lucky if anyone finds them.
Want Proof?
When was the last time you went to pages 3, 4 or 5 through 16,829,183 when you search the Web?
Make a website that draws business to your business.
Thousands of entrepreneurs (and myself) have used Solo Build It (SBI) tools to build and market their freelance business.
The truth is: SBI has changed my life forever! It may yours too!

Thank you for visiting Freelance Marketing Techniques.
Helpful Professional Resources
Organization Skills for a Successful Freelance Business
Additional Small Business Ideas