Internet Free Agent
Freelance Jobs Online
What ItTakes
To Get Jobs

Develop a strategy to get the freelance jobs online that you want at the fee you want to charge.
You'll find a resource for that freelance career enhancing strategy here.
Your objective is two-fold.
The Strategy:
Win the Job:
The Growth of Freelancing
Freelancing is a growth business.
Also, the freelance marketplace is growing more competitive.
With the global economy, with multinational corporations and with the Internet and Skype, the world is shrinking.
According to the U.S. Department of Labor, Bureau of Labor Statistics:
This growth is predicted to excelerate. Having the right approach to finding freelance jobs online AND being found by potential companies seeking your skill, is ever so important.




Overcoming the





"2 FEARS"





of Freelancing



The great things in life come at a price.
Winners invest in themselves.
They want to boost their ability to achieve their objective. In our case, it's finding the right freelance jobs online at the right fee for the services provided.
Most of us do not have first class marketing skills nor do we always know what strategy to employ to reach success. So, we turn to others. We seek good advice from those who are in our workplace or, in the case of freelancers, to experts for help.
I share with you what a friend shared with me.
What is the #1 FEAR                 &              the #2 FEAR
In starting a Freelance Career?
FEAR #1

Will I be able to make a good living?
FEAR #2
How can I find clients that will pay me what I'm worth?
These fears can be deminished greatly by showcaseing your talants on your website.
But, here's the rub: you must build your websdite so it gets found by those seeking your services.
Just a "regular" website will not do.

The Need for a Strong


Professional Website

Your Website is your strongest marketing tool. This is your Resume!

It must satisfy the needs of any potential client. The client is only interested in two things:
Do you have the skills and experience to satisfy the needs of their business?

How will you benefit them?
So, it is imperative that you get it right.
Right means NOT just building a Site that once you give a prospective client the URL they can merely just click on it and see what's what.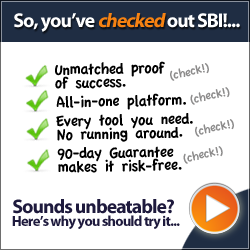 NO, right means being "found" by people searching for solutions to their problem. If you're
Site is on page 3 through page 16,849,412 of the Search Engines, guess what? Your never found and there is missed business. (How often do you click on these pages?)

Getting your Internet Resume, your website right is a major key to your sustained success.
If you're looking a company to guide you in this process, even is you have zero, none or zilch website building experience, then please consider Solo Build It, the folks I use to build this site. (And you found me!)

What separates them apart from all the other website-building firms is that they show you Proof that their methodology will work for you,
Or, if you prefer Solo Build It can build a first class "business website" for you at a reasonable fee.

Thank you for visiting Freelance Jobs Online. May the best opportunities come your way.
Additional Freelance Related Articles

Additional Small Business Ideas