Make a Website
Create Business Website

Building a $$$ Business

Create a business website or starting a business website lists 5 lessons learned in building a website for dummies like me.
I'll provide the lessons to follow in building a super profitable business website. 
Wanting an Online Business But "Totally Blank"
on How to do it


Really, two plus years ago, I wanted to start an Internet business. There were "only" 4 obstacles that stood in my way:
    1.  I had no clue, none, zero how to create business website or even a website. There is a real difference between the two.
    2.  Outside of knowing how to send an email and write a simple WORD document, my computer smarts stood at about a 47 out of 500, with 500 being the highest (my embarrassment)
    3.  I had (and still have) zero technical knowledge about the dozens of techie stuff needed to build a website
    4.  Actually, I must confess, I had nothing to sell and had no idea what business I could start online. I racked my brain for days, but a business idea just couldn't surface.
I was TOTALLY DUMB!
Searching the Web for an Answer
I must admit the Web is full of well marketed, "Here's how to make money" promotions. Many of them sounded really good, really, really good.
I bit on two building a website offers.
Fourteen months later:
I scraped the lot.
I even tried Wordpress, the most used source for blog building.
It was cheap, but everything was extra and I had to acquire components of my sites development from different sources unsure if they were compatible.
I had a friend help me. In the end, I was in the same position of the vast majority of Wordpress users. I had a hosted website but not a business website.

Finally, I Wised Up
I
learned a lesson; in fact, 5 lessons.
My life has been changed forever.
I now have a dollar producing business website and am truly helping people in many parts of the world.
Here are the 5 lessons learned to make my business website sing.
Create Business Website Lesson #1
No one knows your Internet address.
You must build your own traffic to your Internet business to thrive and be profitable.
Therefore, your primary goal is to provide the information potential visitors are looking for in a way the Search Engines and people like.
The Search Engines remain the largest driver of traffic.

Create Business Website Lesson #2
The primary purpose of your website is NOT to sell things.
If you plunge into selling, your visitors simply tune out and click off. As in any business, you must create trust, credibility and build a relationship.
How?
You must provide tons of free info
Internal links to other related pages of your site
Only provide external links that will contribute to your visitor's well being
Create Business Website Lesson #3
This applies to any successful traditional retail or service business in your community, as well as to your Web business. You must identify the best site concept (one that is not too competitive) and how to position it in the Web marketplace.
It takes just as much time and money to build an ineffective site concept as a good one. The difference is making money.
Choosing a website building and marketing methodology is critical in guiding you to this success.
Create Business Website Lesson #4
You must know prior to using any keyword to build a page on your site, whether it will contribute solid info your visitors are seeking and contribute to income generation.
Any website building methodology you select must include these solid factors if you're going to have a chance in making your Site revenue producing.
Create Business Website Lesson #5
Having to mess with all the technical stuff required by the ever-changing Search Engine algorithms is highly, highly labor intensive. Plus, you must keep abreast of what the changes are (sometimes a near impossible task).
Who wants this hassle?
Don't you want this to be automatically done for you behind the scenes, so you can continue to do what you do best…building your business?
I do!
What Changed My Website Building Life Forever
I chose a company with a solid track record of helping naïve folks like me build a profitable online business.
It's a company that does not advertise; yet over 40,000 entrepreneurs use it.

The company's "how to build an income producing website methodology" is taught in over 30 colleges and universities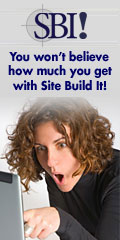 That company is called Solo Build It (SBI). I built this site with SBI even though I was naive as heck. SBI held my hand as I created a business website.

They offer all the tools you'll ever need to build a top site.
EVERYTHING IS INCLUDED for a low price of $29.99 per month or $299 per year. There are never extra charges, no up sell items, no bait and switch and no false hopes. SBI only OVER DELIVERS on everything they do.
Truly, I am very sincere when I say SBI has changed my life forever!
Free Counseling Available
As part of my Pay It Forward mission, I offer to assist you for free, as you start and grow any online or offline business. I happily do this, in part, to thank all those who have helped me as an entrepreneur.
I will never asell you anything.

Just click on my photo above.

Additional Small Business Ideas